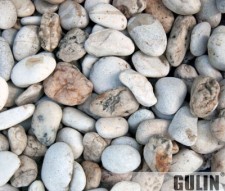 A pebble is a clast of rock with a particle size of 4 to 64 millimetres based on the Krumbein phi scale of sedimentology. Pebbles are generally considered to be larger than granules (2 to 4 millimetres diameter) and smaller than cobbles (64 to 256 millimetres diameter). A rock made predominantly of pebbles is termed a conglomerate. Pebble tools are among the earliest known man-made artifacts, dating from the Palaeolithic period of human history.
Pebble Crushing Process:
Big stone will be fed into jaw crusher for primary crushing by vibrating feeder. After primary crushing, the material will be transferred to secondary crushing machine like cone crusher for further crushing. Usually, we will equip the pebble crushing & screening plant with multi-deck vibrating screen. The vibrating screen is a key equipment to sieve the crushed stones into different grades. The crushed stone that meet the demands will be transported to the stockpile, the other will be sent to cone crusher for fineness crushing.
Pebble crusher is always used with SAG mills in metal ore crushing and processing in a recirculation circuit. Usually, cone crusher, impact crusher play the role as pebble crusher in gold ore crushing, copper ore crushing, iron ore crushing and so on.
Pebble crusher is also widely used in all kinds stone crushing plant, it is an ideal crushing equipment for crushing river stone, sandstone, river gravel, cobble stone, pebble, cobble ,granite,basalt and so on crusher is a special equipment processing construction sand and stone. Pebble aggregate with uniform size and high compressive strength is more ideal than the natural sand, manufactured sand hammer breaking high standards more in line with requirements of construction sand. It is a complete line based on feeder, jaw crusher, sand making new, heavy-duty shaker and efficient washing Sand.
Commonly Used Machines
| No. | Products | Photo | Info. | Operating |
| --- | --- | --- | --- | --- |
| 1. | (PEW) Jaw Crusher | | PEW series Jaw crusher features big crushing ratio, reliable operation, easy maintenance and low operating cost… | View Details>> |
| 2. | (HPC) Cone Crusher | | Base on the latest technology and decades of years' producing experience, Gulin designed the HPC series cone crusher… | View Details>> |
| 3. | (PFW) Impact Crusher | | Base on the plentiful experience of producing and marketing of impact crusher, Gulin R&D institution designed the PFW series impact crusher… | View Details>> |
| 4. | (CS) Cone Crusher | | Comparing with other kinds of crushers, CS Series spring cone crusher is quite excellent in hard material crushing and the final product has good sharp… | View Details>> |
| 5. | (LM) Vertical Mill | | According to customers' requirements, Gulin success in absorbing foreign experience and world-advanced technology, and in producing our vertical products… | View Details>> |
| 6. | (MTW) Milling Machine | | This MTW series milling machine is designed by our experts, according to collected advices from customers' long-term experiences… | View Details>> |
| 7. | (SCM) Ultrafine Mill | | For almost 30 years, Gulin has being specializing in all facets of grinding mill design and maintenance. SCM series ultrafine mill is specially designed for super fine powder grinding… | View Details>> |
| 8. | (VSI) Crusher | | Gulin VSI Series vertical shaft impact crusher is designed by reputed German expert of Gulin and every index is in world's leading standard… | View Details>> |
| 9. | Mobile Crusher | | Mobile crushers are loaded on their own crawler tracks or towed by truck horse when transported over longer distances to a new location… | View Details>> |