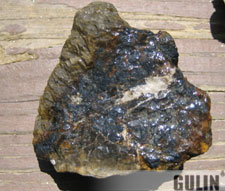 In the uranium ore processing plant, the uranium ore is delivered to the primary crushers, then the ores are normally processed by grinding the ore materials to a uniform particle size and then treating the ore to extract the uranium by chemical leaching. The milling process commonly yields dry powder-form material consisting of natural uranium, "yellowcake," which is sold on the uranium market as U3O8.
Kazakhstan, Canada, and Australia are the top three producers, the other uranium producing countries are Namibia, Russia, Niger, Uzbekistan, and the United States. And South Australia operates the world's largest known uranium resource.
Uranium Crushing Plant
After primary crushing, the uranium ore is reduced to 20cm in diameter, then the crushed ore will be conveyed to the coarse crushing machine for further crushing.
The crushed uranium passed through a further three crushing stages, further reducing its size to the consistency of fine sand. The final size will be down to 2mm, then the screening plant will sieve and separate the crushed uranium ore to the demand size. After weighing, the uranium ore will be stored on a stockpile for grinding.
Uranium Grinding Mills
Construction of the uranium ore concentration plant, and in particular, of the design and construction of the grinding process line is the key for uranium recovery.
Wet grinding plant in in-situ leach plant is used to grind the crushed ore grains by means of steel ball mill for reducing the uranium ore fine enough with the consistency of mud. The ball mill, rod mill is utilised as required by production levels and operate in parallel.
Commonly Used Machines
| No. | Products | Photo | Info. | Operating |
| --- | --- | --- | --- | --- |
| 1. | (PEW) Jaw Crusher | | PEW series Jaw crusher features big crushing ratio, reliable operation, easy maintenance and low operating cost… | View Details>> |
| 2. | (HPC) Cone Crusher | | Base on the latest technology and decades of years' producing experience, Gulin designed the HPC series cone crusher… | View Details>> |
| 3. | (PFW) Impact Crusher | | Base on the plentiful experience of producing and marketing of impact crusher, Gulin R&D institution designed the PFW series impact crusher… | View Details>> |
| 4. | (CS) Cone Crusher | | Comparing with other kinds of crushers, CS Series spring cone crusher is quite excellent in hard material crushing and the final product has good sharp… | View Details>> |
| 5. | (LM) Vertical Mill | | According to customers' requirements, Gulin success in absorbing foreign experience and world-advanced technology, and in producing our vertical products… | View Details>> |
| 6. | (MTW) Milling Machine | | This MTW series milling machine is designed by our experts, according to collected advices from customers' long-term experiences… | View Details>> |
| 7. | (SCM) Ultrafine Mill | | For almost 30 years, Gulin has being specializing in all facets of grinding mill design and maintenance. SCM series ultrafine mill is specially designed for super fine powder grinding… | View Details>> |
| 8. | (VSI) Crusher | | Gulin VSI Series vertical shaft impact crusher is designed by reputed German expert of Gulin and every index is in world's leading standard… | View Details>> |
| 9. | Mobile Crusher | | Mobile crushers are loaded on their own crawler tracks or towed by truck horse when transported over longer distances to a new location… | View Details>> |