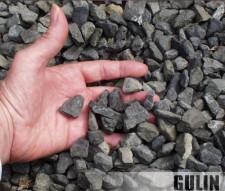 As the most professional devices of sand and gravel plant supplier, Gulin is one high-tech enterprise, which involves R&D, production, sales and service as well. In the past 20 years, we provide a complete set of equipment which includes jaw crusher, impact crusher, cone crusher, VSI series vertical shaft crusher and other related equipment: sand washer, vibrating feeder, vibrating screen, etc.
The devices include jaw crusher, impact crusher, cone crusher, sand making machine and other related equipment. In general, the raw material is fed regularly by the vibrating feeder to the primary jaw and secondary cone crusher for crushing. The crushed material is then transported by belt conveyor to the following vibrating screen for separation. Proper sizes (usually there would be an upper limit for different model of sand making machinery) would be transported to the sand making machine directly, while unrequited materials will be returned to the secondary jaw/cone crusher for repeated crushing until getting required sizes. The crushed material from the sand making machine will be transported to/ returned to the vibrating screen for final separation. Required sand size product would be returned to the sand washing machine for clearance, and then retained as final product. Unrequested product will be returned to the sand making machine for repeated crushing until getting all required size. We can provide professional solutions to different capacity requirement.
VSI series crushers are widely used in crushing nonmetal mine, concrete, fireproof material, abrasive filler, frit, construction aggregate, sand, metallurgy and so on. It is the indispensable machine in sand making industry and it is also the most ideal truing machine for mining and construction industries.
1, Reliable dual pump oil supply lubrication system—stable performance, long life
2, Hydraulic pressure jack device—convenient, timesaving and laborsaving for maintenance
3, Installation mode selection—handy installation, diversified modes, easy to operate
4, crushing principle selection—impact grinding with superior particle shape
5, Chamber type optimization design——lessening consumption of wearing parts.
Gulin not only supply the sand and gravel plant for aggregate production in India, Fiji, Nigeria and Libeya, but also design the process of the complete sand and gravel plant.
Commonly Used Machines
| No. | Products | Photo | Info. | Operating |
| --- | --- | --- | --- | --- |
| 1. | (PEW) Jaw Crusher | | PEW series Jaw crusher features big crushing ratio, reliable operation, easy maintenance and low operating cost… | View Details>> |
| 2. | (HPC) Cone Crusher | | Base on the latest technology and decades of years' producing experience, Gulin designed the HPC series cone crusher… | View Details>> |
| 3. | (PFW) Impact Crusher | | Base on the plentiful experience of producing and marketing of impact crusher, Gulin R&D institution designed the PFW series impact crusher… | View Details>> |
| 4. | (CS) Cone Crusher | | Comparing with other kinds of crushers, CS Series spring cone crusher is quite excellent in hard material crushing and the final product has good sharp… | View Details>> |
| 5. | (LM) Vertical Mill | | According to customers' requirements, Gulin success in absorbing foreign experience and world-advanced technology, and in producing our vertical products… | View Details>> |
| 6. | (MTW) Milling Machine | | This MTW series milling machine is designed by our experts, according to collected advices from customers' long-term experiences… | View Details>> |
| 7. | (SCM) Ultrafine Mill | | For almost 30 years, Gulin has being specializing in all facets of grinding mill design and maintenance. SCM series ultrafine mill is specially designed for super fine powder grinding… | View Details>> |
| 8. | (VSI) Crusher | | Gulin VSI Series vertical shaft impact crusher is designed by reputed German expert of Gulin and every index is in world's leading standard… | View Details>> |
| 9. | Mobile Crusher | | Mobile crushers are loaded on their own crawler tracks or towed by truck horse when transported over longer distances to a new location… | View Details>> |