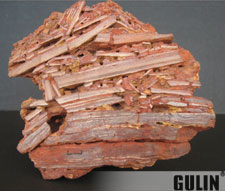 Bauxite mine is actually kind of ore minerals collectively formed mainly by gibbsite, a boehmite or a diaspore which can be used in the industry. Bauxite is widely applicated in both metal field and nonmetal field. Bauxite mine is the best material for producing aluminum. In nonmetal field, bauxite is mainly used as refractories, abrasives, and the raw materials for high alumina cemen.
Bauxite processing equipment
As we know, bauxite ore is very hard, so it takes a longer time for crushing. In the bauxite processing, the Jaw Crusher is used in the coarse crushing, and Impact Crusher is used in the secondary, Cone Crusher is in fine crushing. Usually, according to the quarry conditions, mobile crushing plants are also used in the bauxite quarrying.
Bauxite particles should be further grinded by the use of grinding mill. And the types of grinding mill are varied, including Ball Mill, LM series Vertical Shaft Mill, T130X Superfine Roller Mill, and Raymond Mill, etc.
To get aluminium concentrate, it adopts the method of gravity separation, adopting a Spiral Classifier.
Bauxite processing flow
Large raw bauxite are fed to the Jaw Crusher evenly and gradually by Vibrating Feeder through a hopper for primary crushing.
After first crush, the material will transferred to Impact Crusher by Belt Conveyor for secondary crush; the crushed bauxite stone will then transferred to Vibrating Screen for separating and grinding.
After separating and grinding, the parts that can meet standard will be transferred away as final products, while the other parts will be returned to Impact Crusher, thus forming a closed circuit. Size of final products can be combined and graded according to your specific requirement.
Commonly Used Machines
| No. | Products | Photo | Info. | Operating |
| --- | --- | --- | --- | --- |
| 1. | (PEW) Jaw Crusher | | PEW series Jaw crusher features big crushing ratio, reliable operation, easy maintenance and low operating cost… | View Details>> |
| 2. | (HPC) Cone Crusher | | Base on the latest technology and decades of years' producing experience, Gulin designed the HPC series cone crusher… | View Details>> |
| 3. | (PFW) Impact Crusher | | Base on the plentiful experience of producing and marketing of impact crusher, Gulin R&D institution designed the PFW series impact crusher… | View Details>> |
| 4. | (CS) Cone Crusher | | Comparing with other kinds of crushers, CS Series spring cone crusher is quite excellent in hard material crushing and the final product has good sharp… | View Details>> |
| 5. | (LM) Vertical Mill | | According to customers' requirements, Gulin success in absorbing foreign experience and world-advanced technology, and in producing our vertical products… | View Details>> |
| 6. | (MTW) Milling Machine | | This MTW series milling machine is designed by our experts, according to collected advices from customers' long-term experiences… | View Details>> |
| 7. | (SCM) Ultrafine Mill | | For almost 30 years, Gulin has being specializing in all facets of grinding mill design and maintenance. SCM series ultrafine mill is specially designed for super fine powder grinding… | View Details>> |
| 8. | (VSI) Crusher | | Gulin VSI Series vertical shaft impact crusher is designed by reputed German expert of Gulin and every index is in world's leading standard… | View Details>> |
| 9. | Mobile Crusher | | Mobile crushers are loaded on their own crawler tracks or towed by truck horse when transported over longer distances to a new location… | View Details>> |